If you want to clean your drive way, you wouldn't use a toothbrush because it would take you forever. So instead you use big brush with as many bristles as possible to get the job done quickly. Cleaning a floor or a counter top is the same thing. Microfiber is like a big brush with lots of bristles. It makes the job quick and efficient. Microfiber comes in multiple style from regular cleaning cloths to florr mops and pad, as well as dust mops and carpet bonnets.
Microfiber cloths are best used in applications where a good leaning cloth is important and the life expectancy is of the cloth several hundred washings.. Many applications require a good cleaning cloth but not always the best. We stock a variety of cleaning cloths and a variety of styles and quality to best match the job. Our microfiber cloths are produced from a 300- 450gsm 80/20 blend microfiber material and come assorted sizes and multiple styles from smooth - waffle weave.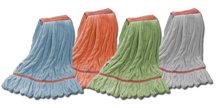 Microfiber Wet Mops are engineered for lint-free wet mopping and are super absorbent, possibly the best wet mop ever produced for commercial cleaning applications. This microfiber wet mop is constructed with 100% continuous filament microfiber woven fabrics sewn into the tubes, which makes this the best yarn for lint-free mopping applications. The microfiber yarn increases the surface friction for superior cleaning as compared to traditional wet mops. This microfiber wet mop contains tailbands to reduce yarn tangling in the laundry process. These work great on smooth and rough floors.
Microfiber Wet Mop Pads are a very effective cleaning tool and can be used wet or dry. These are 5" wide and designed to be more efficient in picking up and removing dust and soil in small and low soil areas. Our microfiber products are industrial grade and will hold up to the harshest environments and hundreds of launderings. Durable velcro top allows for easy attachment to Microfiber Pad Hardware.
Microfiber pads are also available for dusting, wax application, wall washing and even windows.
Microfiber Dusters are available in a variety of styles. A Hi-Duster is constructed with a sleeve of dense pile of 1/2" extended length microfiber yarn and is best used in those hard to reach areas that accumulate dust. The flexible wand can be shaped for cleaning around odd shaped surfaces. With the use of our 59" extension handle it can reach over 8 feet! Our Microfiber Fila-Duster sleeve is produced with Blue 5" long extruded microfiber filament yarn that allows for better cleaning in cracks and crevices or flat surfaces. This high profile filament yarn attracts and holds dust like a magnet. The Fila-Duster is also flexible and can be shaped for cleaning irregular surfaces. The Fila sleeve is launderable.
See us for a variety of other dusters.
: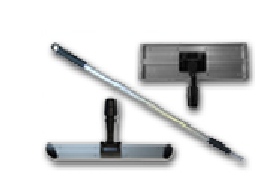 FLAT STYLE Microfiber Mop Frame: These are produced from lightweight high strength aluminum. The flat surface on these frames assists in shedding excess cleaning solution when used in cleaning systems with recharging buckets. These Flat frames are 3 ¾" wide and designed to comfortably fit all types of microfiber flat mops.
CHANNEL STYLE Microfiber Mop Frame: Channel Frames are constructed with riveted velcro for easy use and durability. These are produced with industrial grade high strength aluminum.
PLASTIC COLLAPSIBLE POCKET MOP FRAME: to be used with the microfiber pocket mop floor pads. This frame folds open from the middle to allow its use with a commercial mop and wringer.