A-1 Vacuum now handles the full line of the German made Sebo Vacuum.
Sebo is known for its legendary quality, reliability, and performance making SEBO the first choice of Cleaning profesionals throughout the world properly maintained SEBO Vacuums save ordinary household users by providing excellent performance for ten to fifteen years or more and their deep-cleaning power-brush technology extends the life of your carpets.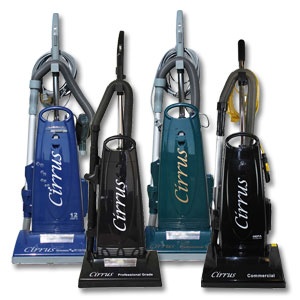 Whether you are looking for a quality vacuum for everyday use, a powerful vacuum specifically designed to remove pet hair, or a multi-purpose canister vacuum,
Cirrus has a vacuum for you.
Cirrus, unlike many vacuums, chooses to use metal for its critical wear items to ensure a durable and long lasting machine.
TTI North America makes a wide variety of cordless, upright, stick, and hand Vacuums under the Brand names Hoover and Oreck. The Hoover and Oreck Companies most people remember no longer exist. Best for light to moderate use these vacuums provide a low priced alternative. A-1 Vacuum is one of the
selected outlets for their factory refurb/return machines providing even greater value. Stock varies.
Effective August 1, 2018, A-1 Vacuum of Missoula will no longer be handling SIMPLICITY products as the line has been re-branded and reintroduced. This formerly american made product is now, in most cases, a sourced import with the Simplicity name. We will continue to support all machine and warranties for machines purchased from our Store.
Why Buy From
A-1 Vacuum?
Free Assembly and Instructional use.

Local "front of the line" warranty service

Parts filters and supplies in stock

Try before you buy

We don't carry every model from every one of our manufacturers -just the best and best value. We CAN order the rest

Full range of prices

We sell bagless and bagged vacuums